Rev. Patrick D. Rogers, S.J.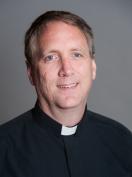 Contact Information: 
Healy 114
202-687-8517 (Office)
Interests:
All music and sports
Interesting Facts:
Fr. Rogers was born and raised in the great state of Maryland just outside Annapolis.  He is an avid sportsman who enjoys tennis, pick-up basketball games, and table tennis.  A professional musician by trade, he studied clarinet performance at Towson University and also played saxophone for jazz great Hank Levy, one of the most innovative jazz writers of the late 20th century.  Before entering the Society of Jesus he sang for five years as a tenor in the Baltimore Opera Chorus and was the Assistant Conductor of the Towson University Orchestra.  He doesn't get to play the clarinet much anymore but instead plays and teaches guitar when time permits.  A connoisseur of all things '70s, Fr. Patrick enjoys teaching the present generation about the great popular music of the 1960s and '70s.