Rev. Lawrence C. Smith, S.J.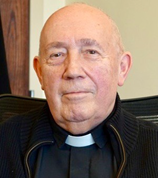 Contact Information:
lawrence.c.smith@navy.mil
Interests:
I enjoy movies as well as occasionally "veging-out" on TV detective series such as NCIS as well as comedies such as Big Bang Theory as well as the Science Channel, and BBC America.

Interesting Facts:
I spent 14 years in ministry to Native Peoples here in the U.S. in both Maine and in NewMexico, and have spent close to 25 years now in Ministry to those in the military and their families. I was an Active Duty Navy Chaplain for 12 years serving with the Marines during Desert Storm. I am now a GS-12 civilian priest serving the Catholic Community here at Joint Base Anacostia here in D.C.  I was also the Jesuit Superior for the Jesuits of Maine for a few years back in the 2000s.

Favorite Books:
I enjoy biographies as well as Sci-Fi fiction.
Favorite Quote:
Perhaps one of my favorite quotes is from the scriptures and applies very much in today's world: "Speak Lord, your servant is listening."