Rev. Gustaaf M. Keppens, S.J.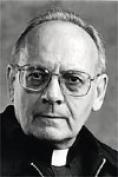 Contact Information:
784-3030 (Office)
687-3950 (Residence)
keppensg@georgetown.edu
Interests:
Fr. Keppens has a PhD in linguistics. Apart from being interested in languages, he likes to concentrate on the cultural anthropological aspect. He likes intelligent movies.
Apostolic Pursuits:
Fr. Keppens is a semi-retired Hospital Chaplain. Within the limits of advanced age, he continues to use his experience of more than 20 years of (then licensed) professional counseling. His focus has been relational, personal, marital and spiritual issues. People sense his combination of seasoned professional skill and wisdom of effective listening. In addition to his PhD in Linguistics, Father Keppens has two MS-level degrees in professional counseling and seven consecutive years of intermittent psychoanalytical psychotherapy training. Before turning to counseling, he taught for over 20 years at high school and university levels.
Interesting Facts:
Fr. Keppens is from Flanders in Belgium. He never forgets having been liberated in September 1944 by the Americans.