Rev. Otto Hentz, S.J.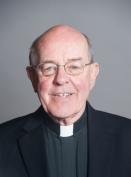 Contact Information:
102 New North
687-5851 (Office)
687-7594 (Residence)
hentzo@georgetown.edu
Interesting Facts:
The academic year 2019-2020 will be the 50th of Father Hentz as a professor at Georgetown.
He was Director of Georgetown Student Volunteers in Latin America.
Biography:
Otto Hentz was born in 1938 and entered the Society of Jesus in 1955 after graduation from the Jesuit high school in Philadelphia, St. Joe's Prep. Jesuits teach for three years before studying theology. He taught philosophy at Georgetown University, 1962-1965. Following the ordinary course in theology he was ordained to the priesthood in 1968, did his doctorate at the University of Chicago and then returned to GU where he has been a professor of theology since 1973.
Favorite Book:
William Lynch, S.J.'s Christ and Apollo
Favorite Quote:
"The heart of the the matter is the heart."