Rev. Stephen Fields, S.J.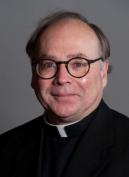 Contact Information:
132 New North
687-5822 (Office)
fieldss@georgetown.edu
Interests:
Theology and philosophy. Fr. Fields has been the Bannan professor at Santa Clara and has held the Maclean Chair at St. Joseph's University in Philadelphia and the Loyola Chair at Fordham University.
Interesting Facts:
Fr. Fields is an expert in philosophical theology and the history of Christian thought. He is the author of Being as Symbol: On the Origins and Development of Karl Rahner's Metaphysics, Analogies of Transcendence: An Essay on Nature, Grace and Modernity (2016), and numerous scholarly articles. He is former president of the Jesuit Philosophical Association.