Rev. David Collins, S.J.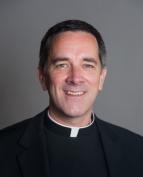 Contact Information: 
djc44@georgetown.edu
More Information
Interests:
Things German: Alps, Bach/Beethoven/Brahms, Canisius, Dürer, Erich Kästner, Franka Potente, "Gott mit dir, du Land der Bayern," . . . Ollie Kahn, Pfaffenwinkel, C. D. and E. Quirin Asam, Riesling, Spätzle, Tatort, umlauts, Veit Stoß, Wolpertinger, Xanten, Die Zeit.
Interesting Facts:
Father Collins was born at the Georgetown University Hospital and raised inside the beltway. The most unusual place he has ever spent the night was on a bridge over the Danube River after the Romanians had let him out of their country and the Bulgarians had suddenly closed their side without letting everyone finish crossing over.
Favorite Books:
Karl Rahner, Encounters with Silence; Shusaku Endo, Silence.
Favorite Quote:
"We think our fathers fools so wise we grow; Our wiser sons no doubt will think us so." (Alexander Pope, An Essay on Criticism, 1709/11)